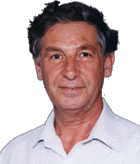 Reuven Anati (Email: [email protected] ) is the head of the recently dedicated Everett Technology Workshop at the world-famous Weizman Institute in Rehovot, Israel.
He designed and supervised the building of a garden of wonders, located at the Clore Garden of Science at the Institute.
The exhibits at this unique museum are designed to stimulate a child's wonder about the world while communicating scientific principles. Each exhibit demonstrates a natural phenomenon. The exhibits are hands-on for the young (and young at heart), most of whom are arriving on field trips from all over Israel. The Clore Garden of Science has become a popular tourist destination.
Prior to his career at the Institute, he was one of the first of employees at Scientific Technology in Rehovot (that later on has become Scitex in Herzlia). Reuven was one of the chief mechanical designer. He designed many of the first mechanical products of the company.
Anati received the Weizman Institute President's Prize, the highest honor conferred on an employee of the Institute. He was also recipient of the nation's Kaplan Prize, awarded by former President of Israel Zalman Shazar. The prestigious award is bestowed on inventors for patent applications. Anati's patent, developed while at Scitex, is for a unique scanner that reproduces patterns on cotton jersey knit.