ELDAD WEISS KNEW THE time to do something had ar­rived in late 2001, when the share price of his company had dropped to $3. It wasn't because Paradigm, which Weiss founded in 1988 and which began trading on the NASDAQ stock exchange in June 1998, was doing badly. In fact, revenues of the firm which provides software technology to the oil-exploration industry were headed towards a new annual high of $72.8 mil­lion and were rising by over 30 percent a year.

The problem, recalls Weiss, a youthful 47 with pale, almost-white hair, sitting in his spacious office in the high-tech area of Herzliyah Pituah, north of Tel Aviv, was that the share price reflected the state of the stock market, not the value or success of the company. Paradigm which was spun out of Scitex in 1988, when that firm focused on printing technology was moving forward. But Weiss feared that the depressed share price would turn it into a "zombie" company, whose shares were vir­tually dormant and hardly traded.
"The share price was ridiculous," says Weiss. After all, Paradigm then had 21 of­fices in 18 countries, and had established itself as the world's largest independent provider of software for oil and gas ex­ploration, using a combination of seismic data and mathematical algorithms to build three-dimensional models of underground oil fields. "Paradigm was hurt by the gen­eral atmosphere after the September 11 terror attacks and the lack of confidence, worldwide, in the high-tech industry," he says.
The $3 per share less than half of the $7 price when Paradigm went public in 1998, and a third of its high of$ 10, in 2000 also raised concern that the lack of in­vestor confidence might spill over into the more than 500 customers of Paradigm's still-thriving business, who include Exxon, Shell, Esso, Mobil and others among the world's leading drillers.
Some months earlier, Weiss had received inquiries from Fox Paine, a San Francisco-based firm that manages over $1.5 billion in liquid assets and $6 billion in investments, which special­izes in providing capital for "friendly" buyouts of exist­ing companies by manage­ment, for investors or on its own behalf. These buyouts often involve "going pri­vate" the conversion of a company whose shares are traded on a stock market into private ownership, by purchasing all of its publicly traded shares.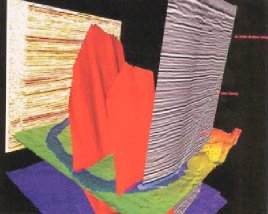 The idea of going private which at first seems the antithesis of the dream of young companies to "go public" with an initial stock market offering tempted Weiss. For one thing, it would lift the pres­sure of worrying about how Paradigm's quarterly balance sheet would affect the share price, enabling management to move its focus from the short-run to long-term growth.
"We're an ambitious company, and we felt that to make Paradigm the company we believed it should be, in terms of its size and performance, we needed to move away from the frustrating position on the stock market," Weiss confides, adding that the change would also provide the cash needed for expansion.
"Let me make one thing clear, it was a positive thing, not because we were in trou­ble" interjects Shai Buber, 38, a Paradigm vice president.
The strategy of going private is a sound one in the current global and local invest­ment climate, agrees Ze'ev Holtzman, chairman of Tel Aviv-based Giza Venture Capital. "Being a public company is some­times a liability," he explains, citing the difficulty to raise needed funds and new U.S. Securities and Exchange Commission regulations, which impose conditions that cost up to $1 million in directors' insur­ance and licenses."
Paradigm and Fox Paine began serious negotiations on going private, and reached agreement within six months. On May 22, the two sides announced that they had signed on a $102-million deal.
The deal was seen as a vote of confi­dence in Israeli companies, if not the Israeli economy as a whole. Particular signifi­cance was attributed to the fact that it was the first Israeli acquisition by a major in­vestment fund like Fox Paine, whose pre­vious acquisitions include two large telecommunications firms in Alaska, Mex­ico's top provider of agricultural seeds, large medical equipment and health care providers, and Penhaligon's, a 130-year-old London-based manufacturer and retail­er of luxury gifts and fragrances.
At the time of the acquisition, Saul Fox, one of Fox Paine's founders, said he thought Paradigm "was very exciting" but had not been able to get fair value on the open market because of the high-tech crisis. His firm paid$5.15 per Paradigm share, up 15 percent on the market price the day of the deal and 70 percent higher than the $3 that had made Weiss start thinking of a deal in the first place.
Though Fox had always had some in­terest in Israel, Weiss makes it clear that the agreement was strictly business. Since the transfer of ownership was completed last August, Weiss says, Paradigm has been moving forward towards its eventual vi­sion, revenues in the annual $200 million-$300 million range.
He reinforces his point by describing a recent gas find in the Krishna-Godavari Basin, in southeastern India. "We helped Reliance, India's second largest oil com­pany, locate India's largest gas resource. It's very rewarding because this particular find has changed the Indian economy," he says. "When it is developed, it can change the country. Rather than buying gas as they now do, from Bangladesh or Qatar, the Indians will be able to use their own resources. '(According to New Delhi's au­thoritative Times of India newspaper, the find has the potential of tripling India's share of world fossil fuel production from its current 0.9 percent.). The Indian discovery "gives us a good feeling," Weiss says. Beyond that, he ex­pects it to provide added value that will attract new customers to Paradigm.
The enthusiastic executive doesn't, however, see the Fox Paine sale as the final chapter in the ownership of Paradigm, where Eldad has stayed on as CEO. In fact, he doesn't rule out putting the firm back into the stock market some day, as a more mature and experienced enterprise. If that happens, he smiles, "having Fox Paine ownership as part of our track record would certainly be an asset for us."