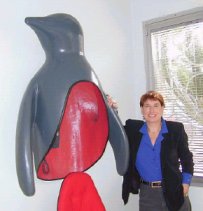 Shelagh
Hammer [email protected]
has been appointed Associate-VP
Marketing at Emblaze Systems. Until recently Shelagh has served
as VP Information and Marketing Services at CreoScitex in
Herzlia, Israel. Prior to that, she filled a number of marketing
positions at Scitex, for a total of 19 years. (in the
picture on the right Shelagh and friend==>)
Founded in 1994, Emblaze Systems www.emblaze.com pioneered the
introduction of instantaneous video delivery to handheld and
mobile devices. The company went public in 1996 and is traded on
the London Stock Exchange under the symbol [LSE: BLZ]. With over
400 employees, Emblaze focus on developing and supporting
practical solutions based on its wireless technology. The
patented technology enables encoding and playback of live and
on-demand video messages and content on any platform: PC's,
PDA's, Video cellphones and TV. Corporate headquarters in Israel,
with offices in NY, Los Angeles, London, Seoul and Tokyo.