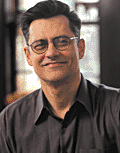 Shmuel Halevi [email protected], is the Co-Founder and President of Thetis Technologies in Boston MA.
Prior to joining Thetis, Shmuel owned and operated TurningPoint Associates, a Boston-based management consulting firm, which he founded in 1995. Prior to that he held senior management positions at The Technology Research Group and at i-Logix and was directly involved in the formation and development of numerous high-technology ventures. At Scitex (during late 70's-mid 80's) he established the Scitex presence in Osaka Japan, which was later transformed to be the STN Joint-Venture in Tokyo. After Japan, Shmuel graduated from the MIT?s Sloan School of management and later started the Scitex geophysical exploration imaging group in Boston.
Established in 2001, Thetis Technologies, www.thetistech.com  is a Boston-based company with R&D in Tel Aviv. The company develops and markets a complete Collaborative Enterprise Solution for the high-technology industry. Thetis helps corporations in automating and synchronizing development, engineering, operations, purchasing and sales, throughout the product lifecycle and across the extended enterprise. (ERP/CRM/supply chain management solution). The Israeli company Orckit Communication (Nasdaq:ORCT), is a major share holder of Thetis Technologies.