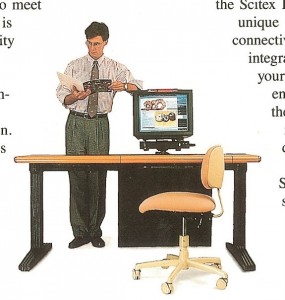 Any of you remember the Scitex Blaze workstation? well here is a nice screen shot, to see additional user-interface examples. The user-interface was designed by Etan Rozin, who's the ExScite webmaster and the technical wizard.
One of our members has recently sent us a great Blaze QuickTime movie clip (click here to play the video, 2MB).
This Blaze-96 movie was created by Scitex America and distributed to the Scitex sales organizations around the world.
If any of you guys have a nice picture of the Blaze– please Email it to [email protected]