The Ex Libris Group announced that the ExScite.
Dan Trajman
has been appointed President of the Company?s US subsidiary, Ex Libris (USA),
effective immediately.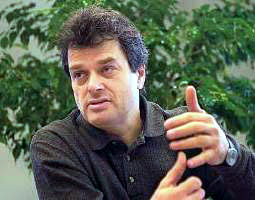 Dan
joins Ex Libris after having served as the President of Sapiens Americas, a
wholly owned subsidiary of Sapiens International N.V. (NASDAQ: SNPS) where he
was responsible for the company?s business strategy in the US market.
Previously, he was President and CEO of iKnowledge, Inc., a company which
provides Internet content management software for high-impact, database driven
applications.
Dan was with Scitex America in the 80's and 90's in various marketing and
application positions.
Earlier this year, another ExScite joined Ex Libris, in Jerusalem Israel.
Lior Ofer
has been appointed Director Of Global Support. He was with Scitex for 14
years.
Ex Libris (Jerusalem, Israel) is
company, a developer and provider of applications for libraries, information
centers and researchers. ALEPH, the Ex Libris integrated library solution, has
been installed at over 800 sites and consortia in over 50 countries. MetaLib,
the information portal for library collections, and SFX, the context-sensitive
link server for heterogeneous electronic resources in the scholarly information
environment, have been purchased by more than 530 institutions in 30 countries.
As a component of an overall digital strategy, DigiTool, a solution for
constructing digital collections, rounds out the Ex Libris product suite.