The ExScite Rami Gilboa has combined his two areas of great interest- food/cooking with open-terrain/Jeeps and published a great book.
"THE SALT OF THE EARTH- cooking outside with the best Israeli chefs" is a great looking book, with fantastic photography and mouth-watering recipes. The book (for now- published only in Hebrew) can be found at book stores but unfortunately can not be purchased online yet.
Rami has told us that making the book provided him with a lot of fun and personal satisfaction. Rami has been the photographer, the writer as well as the Jeep driver. For several months he took leading Israeli chefs and drove with them to the hills and deserts in Israel. He had arranged the location with wood fire for them and they cooked their masterpieces on the open fire.
Rami says: "it was great experience and fun (including my almost becoming "Journaliste Flambee", when the oil caught fire, big time…)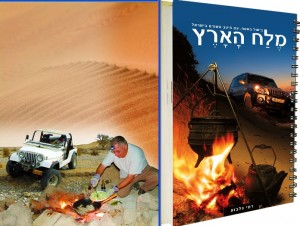 "
For our Hebrew readers:
Click here  to see the books table of content.
Click here to see the recipe for Foyka.
You can see additional stories about Rami's other crazy hobby by scrolling back the ExScite/Gossip to the 2001 postings of March 10 and Nov 25.