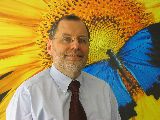 New Hampshire-based Dimatix/Spectra Inc., announced that it has named the ExScite Edward T. Chrusciel to the newly formed position of Marketing Director. In his role, he will be responsible for overseeing the company?s marketing, brand building and communications as well as driving expansion into new markets.See press release here.
Most recently, Ed was Director of Consumable Products at Iris Graphics, a Scitex/Creo Company, where he was responsible for its entire line of ink and paper products. Before iris, he was also with Hell and Optonics.
Dimatix is a developer and manufacturer of high-performance ink jet printheads and components used in a broad range of industrial, non-impact imaging applications through its Spectra Printing Division. The Dimatix Materials Deposition Division is evolving ink jetting technology into a production process that lowers the cost, time and environmental impact of producing electronic circuits and functions for RFID tags, flat panel displays, circuit boards and other electronic and bioscience applications. The company is headquartered in Santa Clara, Calif.; its Spectra division is located in Lebanon, New Hampshire; and its customer base is worldwide.