The ExScite (Ex-Iris) John Ingraham has recently embarked on a new endeavor in Hanover. BlickTek was founded by John and a partner to provide Imaging Solutions, Financial Services, Communication Localization and Business consulting services in Europe.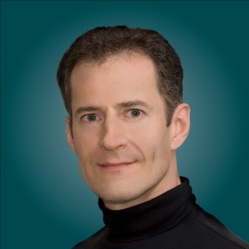 John is a pioneer in the development of high quality digital color imaging systems. For over 25 years, John has assisted companies to develop and sell imaging software, hardware, and consumables and related technology products. His experience covers all areas of the imaging business from development, project management, product management, and business development.
John has worked in the field of imaging at: IRIS Graphics (a Scitex company), ColorGate Digital Output Solutions, GmbH, Lasersoft Imaging, AG, Oak Technology (Zoran), Lyson Limited.
Originally from the US, John currently works and resides in Germany.
Based in Hanover Germany, BlickTek provides Financial Services, Communication Localization, Business consulting and Imaging Solutions services, which includes: locating new markets and technologies, education and training, developing new applications and products.
March 15, 2006 (Amsterdam) John Ingraham of BlickTek gave a presentation entitled Impact of MicroSoft XPS on InkJet and Print Market (PDF) (click on the link to see the presentation),  at the 29th Global Inkjet and Thermal Printing Conference in Amsterdam. Microsoft XPS, the new document and print format and print workflow in Microsoft Vista, will provide significant improvements with regards to image quality and color fidelity over the existing GDI printer pipeline. XPS also appears to be a strategic initiative by MicroSoft to compete against Adobe and PDF. Printer, RIP and Software manufacturers will need to make changes to their existing applications and drivers in order to take advantage of XPS print and color capabilities.