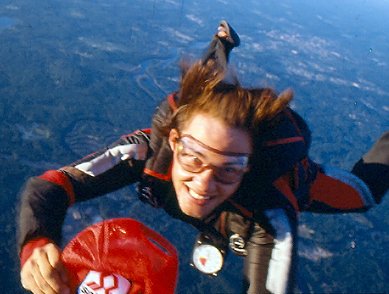 It is with deep sorrow that we have to report the passing of our ExScite Paul Quandt.
Paul died Sunday as the result of injuries sustained earlier in the weekend in a motorcycle accident in Lake Wales, Florida.
Paul, or "Q" as he was known, was a Scitex America service engineer. Soon after he was hired he quickly became indispensable, first as the in-house expert on Cypher tape drives, then later on scanners. He understood not only the mechanics and electronics, but the art and science of color, traveling around the country and around the world, not only to install and repair scanners but to help customers understand how to make the best use of them.
As a skydiver, he achieved many national and international honors. His team most recently won a Gold Medal in an international meet in Russia in August.
You can read about Paul's skydiving here: Qauntum Leap Grabs Gold
Paul's picture (above) was submitted by the ExScite (STA) Howard White. Howard writes: "[this picture of Paul] might be appropriate. I took it many years ago in freefall, and, though not as sharp as it might be, [the picture] conveys his spirit (and has a Scitex touch, see the Scitex cap he is holding)".