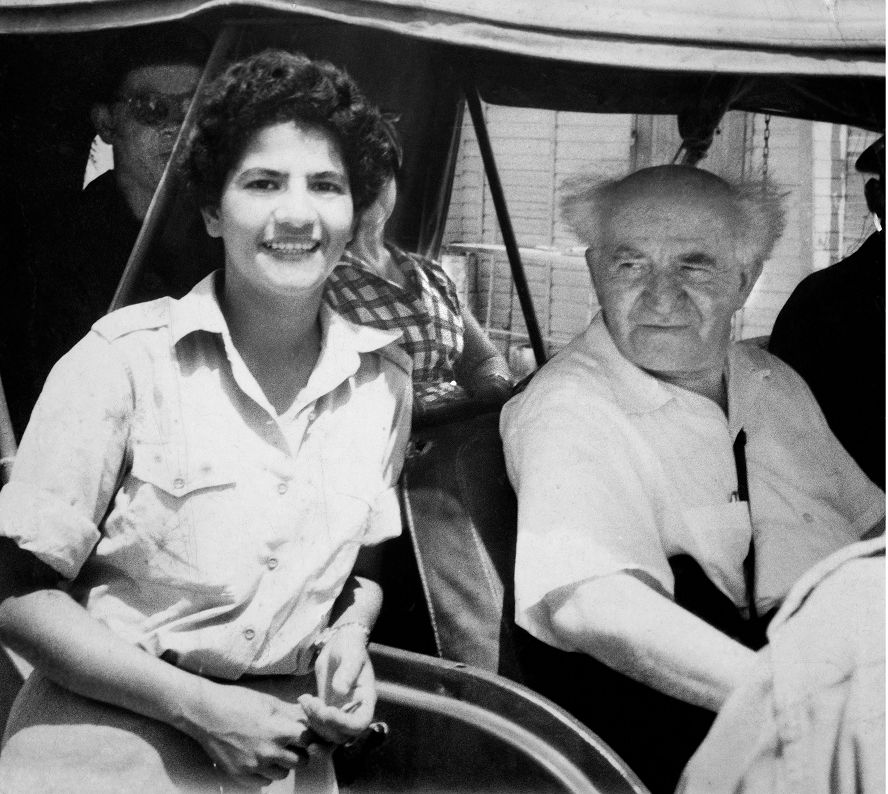 Diana with Ben Gurion.
With great sadness, we announce that Diana Shemtob passed away in Israel on March 17, at the age of 72.
Diana was born in Singapore, and spent World War II in a Japanese concentration camp, together with other Jews and citizens of Western countries who were living there when the war broke out.  After the war ended, she came to Israel and took part in building the new state.
A native English speaker, Diana joined Scitex in 1973 as English-language secretary.  As one of Scitex' first 100 employees, Diana got into the company "on the ground floor".  Over the next 25 years, she performed a wide range of administrative and secretarial jobs, and was the first of the administrative personnel to use a Word Processor, on the old VAX computer.  In those days, Diana could be seen walking the halls of the office in Herzliya carrying the reels of tape on which her text files were stored.
In addition to her other skills, Diana was a talented seamstress, and made it a habit to knit a new pair of booties for every Scitex baby born in the Israel office, as well as for some of her Scitex colleagues.
Diana was absolutely dedicated to Scitex, and never let go of a project until it was finished to her satisfaction.
Following her retirement, Diana took great pleasure in attending the "Scitex ladies' reunions", which a group of ex-Scitex women took turns hosting over the years, in order to maintain our friendships and keep up with each others' post-Scitex lives.  The most recent of the reunions was held in February of this year at the home of Galit Felix.
As a young woman in her early 20's, Diana served in the Israeli air force. One of the pictures she was always very proud to show around was of her with a friend (sitting in the Jeep, David Ben-Gurion, Israel's prime minister and minister of defense, during one of his visits at the air force).
Diana was a cherished member of the Scitex family, and we shall all miss her greatly.