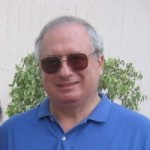 The ExScite Moshe Carmi is the primary algorithms developer at PSik Solutions.
Carmi spent more than 12 year (1980 – 1992) at Scitex, Israel R&D. He was principle programmer and a project manager for the Scitex Work Stations- the Prisma platform. As we all remember so fondly, the comprehensive Prisma product line positioned Scitex as the undisputed world leader in the pre-press industry during the roaring 80's.
After Scitex he was VP R&D at Polycom, Israel for 14 years. The company was a technology group that had been started by another ExScite- Gideon Rosenfeld, and was later sold to Polycom.
Located in Zur Yigal, Israel, PSik Solutions Ltd. was established in August 1995 by the ExScite- Udi Zohar. PSik specializes in developing solutions for OEMs and VAR's in the digital color printing market, focusing on various aspects of color printing and raster image handling, based on our fast, large image viewer, named PViewer. Psik applies its knowledge from the graphic arts industry to other fields where handling of large images is essential.