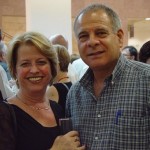 In early 2010, the ExScite Kobi Stern traveled for two month in South America including: Chile, Argentina, Brazil and Peru. (See picture).
Over the recent two years Kobi has been working on completing his M.Sc in Biomedical Engineering. Currently he is working in Tel Aviv university as Research assistance/project engineer. The research subject is "Optimization of cut in velocity of straight bladed vertical wind turbines".
Before going back to school, Kobi was the CEO of IntelliMedi. From '04-'06 he was Head of Department Electronic Design Process Improvement at Elbit and from '98 to '03 he was VP Engineering Infrastructures at Orbotech.
Kobi's career at Scitex spans 17 years. He was field support engineer, h/w design engineer, projects manager and director of engineering infrastructure.