P.INK Germany enters Chapter 11
P.INK, the Macintosh-based editorial front-end system whose history has been mixed at best, has hit another stumbling block: bankruptcy.
The German company that developed the software — P.INK Software Engineering GmbH of Hamburg — has filed Vergleichsbeantragung, the German version of Chapter 11 reorganization. This type of bankruptcy filing allows a company to keep its creditors at bay while it negotiates for better repayment plans and/or the injection of working capital from new investors.
Reports from Germany indicate that P.INK had been planning on a fresh round of financing from Scitex Corp. Ltd. of Herzlia, Israel — one of its four owners — which was not forthcoming.
Speculation has implicated Scitex's 1995 third-quarter loss of more than $36.4 million as the reason it didn't make the investment. The loss might have left the company cash-strapped and incapable of honoring its commitment to buy out two of the other three owners of P.INK.
Scitex America executives did not respond to numerous phone and e-mail queries regarding the P.INK situation.
Scitex, which markets the P.INK product line outside of Germany, Austria and Switzerland, bought 25 percent of the company in February 1994 with an agreement to acquire another 50 percent of the company over a two-year period. The remaining 25 percent of P.INK would remain with its founder, president and chief executive, Andreas Poliza.
The 50 percent of the company that Scitex was scheduled to acquire has been owned by the German newspaper publishing group Madsack and a German software company called Rechenzentrum Südwest. Rechenzentrum has owned its 25 percent for only a year.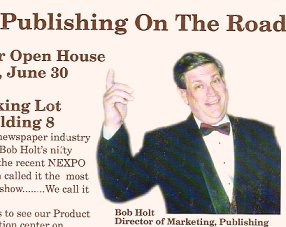 The acquisition of P.INK was engineered by Scitex America Corp. executive Bob Holt, a former editor at the St. Louis Post-Dispatch. Holt, based in Bedford, Mass., spent much of 1993 in Hamburg, stopping off on his way to and from Israel to work with Poliza to improve the software and iron out the long-term relationship.
Scitex — both in Israel and the United States — has gone through massive reorganizations recently. The head of Scitex America, George Carlisle, left the company last summer. In November, Arie Rosenfeld, the president and chief executive of Scitex Corp. Ltd. resigned amidst the fallout from the company's sizable third-quarter loss.
Part of the reason for that loss was an $18 million charge for employee termination benefits; many longtime Scitex executives have recently left the company, including Scitex America's marketing executive Ken Hurtabise and corporate communications executive Paul Thiele.
In addition, Scitex America announced in August the establishment of a publishing division that would be responsible for the P.INK product line as well as other Scitex products.
Scitex has sold the Mac-based P.INK system to two newspapers — The Sun of Bremerton, Wash., a 41,000-circulation evening daily, and the 63,000-circulation morning Evansville (Ind.) Courier. Both papers are owned by Scripps-Howard.
In addition, Scitex smoothed the installation of P.INK at the Toronto Sun and other Sun Publishing Corp. properties (which include the Calgary Sun, Edmonton Sun and Financial Post), even though the Sun papers had purchased the product directly from P.INK in Germany.
Executives at these papers were reluctant to be quoted about the situation, but indicated that Scitex had told them, as one said, "not to worry."
"We've been told that the worst-case scenario is that Scitex will get the North American rights to the P.INK code," said one newspaper executive.
Despite generally upbeat comments coming from customers, and published reports that the staff has "expressed full support for the company," sources in Germany indicate that P.INK programmers are extensively circulating their resumes.
The P.INK story in North America is not a happy one: Demonstrated under the P.INK Software banner at ANPA/Tec 1990, the North American marketing rights for the product were acquired in 1991 by the Time Magazine Group division of media giant Time Warner.
For the next two years, P.INK America attempted to sell its software to its sibling divisions — magazines such as Time, People and long-time Mac user Entertainment Weekly — and newspapers and other magazines as well.
The potential customers, inside Time or not, were decidedly uninterested. In 1993, Time shut down P.INK America. It was another year before Scitex made its deal, and despite the Scripps-Howard sales the company has had problems building momentum for the product line.
From THE COLE PAPERS, January 1996, Copyright