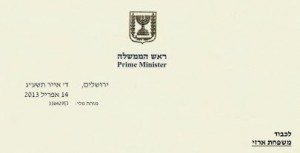 Benjamin Netanyahu Israel's prime minister, note in Hebrew to the Arazi family following Efi's passing.
Click here to see the signed original:  01 – Benjamin Netanyahu to Arazi family
Translation:
Dear Aarazi family,
I was saddened to hear about Efi's passing.
Efi was one of the first pioneers of the Israeli high-tech industry. He combined vision and action, and realized before many others, the awesome technological potential available in Israel.
I have known Efi and liked him as a brilliant and witty person, recognizing that a world  of opportunities is wide open for him.
Unfortunately, his illness has taken him from us before he could complete contributing his genius leadership to further advance and develop the Israeli economy.
Regards,
Beyamin Netanyahu
April 14
[Israel's prime minister]